200 protest Rwandan leader Paul Kagame's visit to Montreal
200 protest Rwandan leader's visit to Montreal
Last Updated: Tuesday, April 25, 2006 | 3:00 PM ET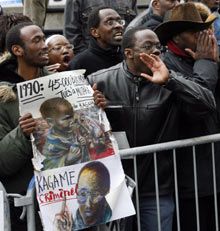 Members of Quebec's African community rallied in downtown Montreal Tuesday to protest a visit by Rwandan President Paul Kagame.
About 200 demonstrators threw sticks and shouted at Kagame as he arrived at a hotel to take part in a two-day conference. They allege he's behind ongoing human rights violations in his home country and shouldn't be allowed to visit Canada.
Some of the protesters wrapped themselves in the Rwandan flag.

Rwandan President Paul Kagame faced a protest outside the hotel where he was staying in Montreal. (Ryan Remiorz/Canadian Press)


"We're really, really upset that he's been allowed a visa, because this guy, for us, he's like a devil," said Pierre Claver Nkinamubanzi, president of the Canadian Rwandan Congress.
Kagame is in Canada on an unofficial visit to take part in a conference on education and economic development in Africa.
Many protesters said Kagame played a key important role in the 1994 Rwandan genocide which killed 800,000 people over three months.

The protesters allege Kagame is behind human rights violations in Rwanda and shouldn't be allowed to visit Canada. (Ryan Remiorz/CP)


Kagame has never been charged with war crimes by any international tribunal.
However, people like Jean-Moise Djoli said there are mountains of evidence that Kagame and his government violated human rights in Rwanda.
Djoli, a Congolese who studies law in Montreal, accused Canada of encouraging bad foreign governments by opening its doors to questionable leaders.
"They're actually putting business interests first and human rights behind. And that's very ... disrespectful," Djoli said.
For Rwandans and Congolese Canadians, the genocide is still a very sensitive topic, said Djoli, adding that the Canadian government should be more mindful of that reality when it invites foreign leaders here.
Read more:
http://www.cbc.ca/canada/story/2006/04/25/rwanda-visit060425.html#ixzz0fCu2j7fL