WHY WAS GEN. LAURENT NKUNDA DISOWNED BY KIGALI
WHY WAS GEN. LAURENT NKUNDA DISOWNED BY KIGALI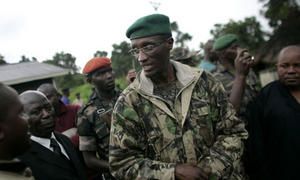 Tony Blair happened to be in Rwanda at the time the Tutsi rebel general, Laurent Nkunda, was slaughtering his way through eastern Congo late last year.
Blair – who has taken on saving Rwanda as another of his post-premiership missions, inserting people into the offices of the president, prime minister and cabinet in Kigali to help run the government – was keen to talk up the prospects for the tiny central African nation that has made remarkable strides since the 1994 genocide that left about 800,000 Tutsis dead.
But the world's attention was on a different aspect of Rwanda entirely. This time Rwanda was on the receiving end of international criticism for backing Nkunda amid the continuing horror of massacres, mass rape and perpetual refugees in Congo, where about 5 million have died as the result of more than a decade of war and its effects.
Nkunda, once Rwanda's tool in keeping Hutu militias at bay, had become an embarrassment. The rebel general had already spilled a lot of blood before the crisis flared again last October when his forces marched to the edge of Goma in eastern Congo. But on that occasion the world, for once, took notice when Nkunda's men went through the town of Kiwanja systematically killing hundreds of the remaining men, and some families.
In Rwanda President Paul Kagame's government was alarmed. His minority Tutsi-led administration, which drew much of its foreign support from the moral authority of having ended the genocide, was now seen more as perpetrator than victim.
Kagame's grand scheme to project his country as a rapidly modernising state embracing Anglo-Saxon liberal capitalism – even to the extent of switching the education system from French to English – was threatened by its support of Nkunda. Its involvement in Congo sent out the message that Rwanda was really run by another bunch of bloodthirsty warlords.
At that point Nkunda became more of a liability than an asset. His arrest yesterday, as he fled into Rwanda with large amounts of cash, gold and diamonds, is one part of a dramatic diplomatic shift as Kigali tries to detach itself from direct involvement in Congo that used to pay dividends in securing its frontier and vast profits from the plunder of minerals but which has become a political burden.
Nkunda's close ties to Rwanda go back to his days fighting in the rebel army, the Rwandan Patriotic Front (RPF), that overthrew the genocidal regime and took power in 1994. He returned to Congo – or Zaire as it then was – and was again drawn in to collaboration with the RPF after it invaded Congo twice in the second half of the 1990s to fight the Hutu militias that had fled there after leading the genocide.
After Rwanda pulled out of Congo in 2003, it saw Nkunda's National Congress for the Defence of the People (CNDP) as a buffer force against the Hutu force, the Democratic Front for the Liberation of Rwanda (FDLR), which had gained control of swaths of territory on Rwanda's border and kept up the mantra of genocide, threatening to exterminate Tutsis.
But Nkunda, in the name of defending Tutsis, was increasingly bloodthirsty. His forces rampaged through cities such as Bukavu, murdering and raping. They also got into the mining business, getting rich out of plundering gold, diamonds and coltan, a crucial but rare component of mobile phones.
Much of the world turned a blind eye to Rwanda's backing for Nkunda. Officially it had stopped because Kigali was embarrassed by his excesses but there was no doubt that links remained. Nkunda's soldiers included English-speaking Tutsis most likely drawn from Rwandan exiles who grew up in Uganda. The UN observed weapons being shipped through a triangle of land that linked Rwanda, Uganda and Congo. Above all, for a long time Nkunda served Rwanda's interests and Kigali declined to condemn him.
No more. Rwanda is trying to reshape itself as a modern, forward-looking country, far from the semi-fascist state that took hold during the three decades from independence to the genocide. The government's successes can be seen in how the capital has boomed since the genocide. Millions of dollars flowed in to build new hotels now filled with tourists and conferences. Kagame is talking up his country's prospects as a regional information technology hub.
But Congo increasingly threatened to wreck the new image, and Nkunda – who, as he grew more powerful, took to greeting visitors to his hilltop headquarters dressed in flowing white robes, like some messianic figure, with his white pet goat in tow – went from being an asset to a problem.
The political capital that the minority Tutsi-led government of Rwanda could draw on because of western guilt and sympathy after the genocide was increasingly overshadowed by the crimes being committed in Congo.
In December a UN report accused the Rwandan government of fuelling the conflict through covert support to Nkunda. The report also accused the Congolese government of ties to the Hutu militias threatening Rwanda, but that attracted less attention.
Rwanda vigorously denied the accusations but they were well documented and a further embarrassment after the crimes of Nkunda's forces a few weeks earlier. In response, some European governments cut off aid to Rwanda, emphasising to Kigali that it was now no longer viewed as the victim.
Kagame's closest allies overseas, the US and Britain, which provide the bulk of Rwanda's foreign aid and a lot of diplomatic cover, quietly made clear that the conflict in eastern Congo had to be brought to an end.
Last week saw two dramatic and complementary developments. Nkunda faced a revolt within the CNDP, with some of his officers saying they had removed him from command and would no longer fight the Congolese government. At the same time, thousands of Rwandan troops moved across the border in agreement with the Congolese government to purse the Hutu militias controlling swaths of territory.
The deal was in place. Rwanda would neutralise Nkunda and the CNDP so long as the Hutu militias were also confronted. Tellingly, the rebel general fled across the border after he was confronted by a joint Rwanda-Congolese force. Nkunda's benefactor was allied with his enemy in pursuit of him.
Eastern Congo has been here before, and there is unlikely to be a complete halt to the violence for some time. There are still too many armed groups and mining groups with a vested interest in continued instability.
But dealing with the Hutu militia and Nkunda does confront the root causes of the conflict in eastern Congo for the first time, and gives its long suffering people the prospect of hope they have not had for many years.
Chris McGreal, Africa correspondent
guardian.co.uk, Friday 23 January 2009 13.41 GMT