Dr. Museveni Yoweli went to comfort mudslide victims carrying Krachnikov on his chaest. a true picture of stupidity of African leaders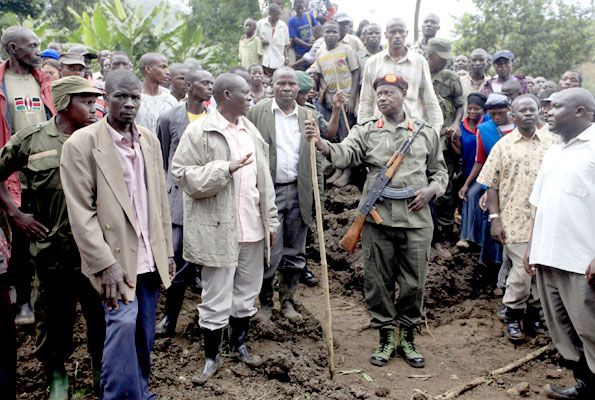 Ms Esther Nabulooli and her three children were the first to move out of Nametsi Village after President Museveni directed that all people in the landslide-prone neighbouring villages of Tunwatsi, Mulwere and Kubewo, be relocated to Bulucheke, Bubiita and Bududa district headquarters. "Before the President even spoke, we were ready to move away from the place because there are cracks everywhere, occasionally you hear noise from the hills indicating that there is another landslide in the waiting," said Ms Nabulooli who seemed still traumatised by the mudslide.

The President, who visited the scene of the mudslide where about 300 people have been buried and only about 80 bodies retrieved, told local residents that the deaths should help the people draw appropriate lessons from the tragedy. "God was not foolish to arrange nature the way he did. When mankind goes against God's engineering plan, it becomes very dangerous and disastrous the way it is now. We need to tell our people to live in harmony with nature, we can co-exist, we can't oppose God," said Mr Museveni. "This place is called Nametsi meaning the granary of water and this is what God intended it for. But look at it, you have destroyed all the trees at the slopes of the hills that hold the soils, you have cultivated on the hills, you have settled on the hills, what do you expect? Once you harass nature it also harasses you," he added.
Mr Museveni urged all local and religious leaders to sit down after the tragedy and relocate all people to other areas for safety. "I am happy that people are willing to relocate, let all these people be temporarily relocated in camps at Bulucheke, Bubiita and Bududa District headquarters as the government tries to look for land for their final resettlement outside the hills," he said. He told the local people at Bukalasi Sub-county headquarters that all people should be relocated to pave way for the hilly places in the area to be used for environmental protection.
Martyrs
He said the people, who died at Nametsi, should be treated as martyrs because they have died for all Ugandans who disturb nature and think that they can do away with it. Mr Museveni said he had already directed the Ministry of Finance to set aside some funds for food, shelter and household items to enable effected families start new life outside the hills.
During the burial of one of the victims in Nametsi, Diana Namwano, a former student of Bukalasi Secondary School, Mr Museveni asked local leaders to make a list of all children whose parents have died so that the government can pay their school fees. According to the Third Division Commander, Brig Patrick Kankiriho, the UPDF has already started telling people to relocate from the landslide area.