HIDDEN HORRORS: A special report.; Uncovering the Guilty Footprints Along Zaire's Long Trail of Death
HIDDEN HORRORS: A special report.; Uncovering the Guilty Footprints Along Zaire's Long Trail of Death
Published: November 14, 1997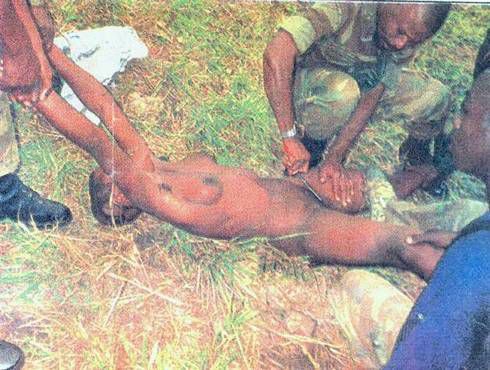 NAIROBI, Kenya, Nov. 13— The rebellion in Congo that ended in the spring was conducted largely out of the sight of the rest of the world. Most of the fighting took place in remote jungles with impassable roads and decrepit communications, and rebel commanders barred journalists and aid workers from the combat zone.
When it was over in May, the victor, Laurent Kabila, presented himself to the Congolese as a liberator who had ousted a corrupt dictator, Mobutu Sese Seko.
But more and more evidence has emerged suggesting that Mr. Kabila and the Rwandans who backed him were also fighting a war of revenge, one deeply intertwined with the ethnic conflicts between Hutu and Tutsi groups that have tormented this region. The Tutsi troops from Rwanda and Congo who made up the core of Mr. Kabila's army had a powerful motive for vengeance, since thousands of Hutu refugees in the camps had taken part in the slaughter of more than half a million Tutsi in Rwanda in 1994.
Not a single body has been unearthed by United Nations investigators, whose work resumed this week after months of being stymied by Mr. Kabila's government. But these investigators, human rights groups and journalists have been able to gather chilling accounts of mass killings that leave little doubt that Mr. Kabila's forces committed atrocities as they marched across Congo, then called Zaire.
What remains unknown is the full scale of the massacres and exactly who ordered the killings -- in particular, whether they reflected a deliberate policy of extermination or were the acts of rogue commanders.
While Mr. Kabila always sought to topple Mr. Mobutu, his Rwandan backers had a different agenda -- to rid themselves of the refugee camps on their border harboring Hutu guerrillas who posed a threat to the Rwandan government.
What follows is the most complete accounting that could be pieced together from interviews with United Nations investigators, diplomats, aid workers, former refugees and officials from Congo and Rwanda, as well as the best assessment that can now be made of both the mounting evidence of the Congolese massacres and the remaining gaps in what the outside world knows.
Accounts of mass killings of refugees began to trickle out of Congo, then called Zaire, even before the rebels' victory in May.
United Nations investigators say they have strong testimony of at least 14 mass killings of refugees, as well as about 200 more unconfirmed reports and tips. Congolese human rights groups and Catholic missionaries say they have received accounts of massacres across the breadth of Congo, from Uvira, the eastern border town where the rebellion began last October, to Mbandaka in the west, where between 200 and 2,000 people are said to have been killed just before Mr. Kabila's troops entered Kinshasa, the capital.
But Mr. Kabila's Government has thrown a series of obstacles in the path of the United Nations investigation, raising suspicions that his military leaders have something to hide, investigators said. The obstacles include blocking all access to the areas where massacres were reported and demanding the removal of investigators he said were biased. There have also been persistent reports that Congolese soldiers have been destroying evidence of atrocities.
Despite the return of investigators to Kinshasa this week, the inquiry still faces enormous obstacles, not least having to weigh the conflicting accounts of those who line up on opposite sides of the ethnic divide.
While Hutu refugees and Congolese villagers assert that rebel troops hunted down and killed thousands of unarmed people, officials from Congo and the Tutsi-led Government in Rwanda, which backed the rebels, dispute those accounts. They maintain that the rebels only fired on armed Hutu guerrillas hiding among the refugees and using them as human shields.
The future of Congo's relations with the West may turn on the results of the United Nations investigation. After three decades of corrupt rule under Mobutu Sese Seko, Congo, a vast and mineral-rich country, is impoverished and undeveloped, desperately needing allies, aid and foreign investment.