Hilary should consider to correct the mistakes made in Rwanda as she pursues Tehran
Hillary Clinton: 'Iran is moving towards a military dictatorship'
US secretary of state steps up war of words against Tehran, calling on regime to rethink 'dangerous' nuclear policy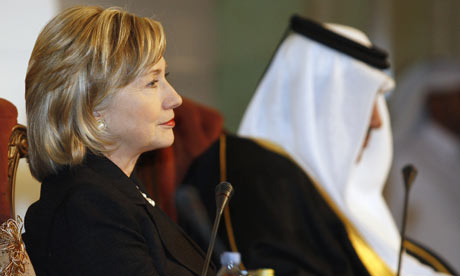 Hillary Clinton today said Iran was becoming a military dictatorship as the Obama administration's diplomatic campaign against the Tehran regime continued to escalate.
Speaking to university students in Qatar, the US secretary of state warned that Iran's Revolutionary Guard wielded so much power it was effectively supplanting the government.
"Iran is moving toward a military dictatorship," she said. "That is our view."
Yesterday, Clinton called on Iran to rethink its "dangerous" nuclear policy as she embarked on a US campaign to win Middle East backing for a new set of sanctions after Tehran's decision to make more highly enriched uranium.
Last week, the US treasury department announced it was freezing the assets in US jurisdictions of a Revolutionary Guard general and four subsidiaries of a previously penalised construction firm he runs because of their alleged involvement in producing and spreading weapons of mass destruction.
The Revolutionary Guard has long been a pillar of Iran's regime as a force separate from the ordinary armed forces. The corps has a hand in every critical area, including missile development, oil resources, dam building, road construction, telecommunications and nuclear technology.
It has also absorbed the paramilitary Basij as a fully fledged part of its command structure, giving the militia greater funding and a stronger presence in Iran's internal politics.
Clinton also expressed hope of a breakthrough in stalled peace talks between Israel and the Palestinians.
"I am hopeful that this year will see the commencement of serious negotiations that will cover every issue that is outstanding," she said.
The peace talks broke down in late 2008 with Israel's incursion into Gaza, from where rockets had been fired at Israeli targets.
Officials travelling with Clinton said one of the main aims of her trip would be to encourage Saudi Arabia – where she is due to arrive today – and other Gulf states to reassure China that its energy supply would not be interrupted in the event of punitive measures against Iran.
Other US officials were quoted as saying privately that Saudi Arabia had already made some overtures to China on fuel assurances.
China is the only permanent member of the UN security council currently threatening to veto a fourth round of sanctions after Iran's announcement that it would produce 20% enriched uranium.
That level of enrichment ‑ measured by the concentration of the fissile isotope U-235 – is over five times greater than Iran's current stockpile.
Tehran says it needs the new fuel for a medical research reactor, but western governments point out that the step brings it significantly closer to having weapons-grade uranium, which is more than 80% enriched.