Kagame desperate to hold on to power, resorts to more severe domestic terrorism tactics
Posted on
February 20, 2010
by sunkissed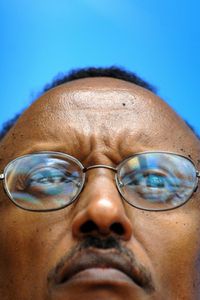 For anyone who has not heard, Amnesty International condemned the recent intimidation attacks hurled at presidential hopefuls in opposition to Kagame in Rwanda. Some of the intimidating attacks include actual physical violence perpetrated by mobs against a female candidate.
When mob attacks did not work to deter the presidential hopefuls, Kagame up the ante. First, he created extremely rigid election laws, preventing anyone from properly registering and freely campaigning across the country. Specifically, candidates can only publicly proclaim their candidacy 26 days before the elections and have only 18 to campaign across the country. And that's 26 days in total for the whole campaign process. The Chairman for the National Electoral Commission stated:
The Chairman of the National Electoral Commission, Professor Crysologue Karangwa told APA Friday that the eighteen days were enough for a serious presidential aspirant to go around the country of thirty districts campaigning.

"Eighteen days are enough for a serious presidential candidate to cover the country, we do not expect them to visit every village or district in the country by themselves, they have supporters who should help in campaigns," Karangwa said.
I love (and by love I mean, is this guy serious? Really?) how he presumes to know how members of opposition parties will run their campaigns or how much support they have. Obviously he doesn't mean what he says. I mean obviously can't mean it.. He is only saying it because it rationalizes the absurdity of restricting political candidates to 26 days of announcing their presidential candidacy and actually campaigning around the country. I mean it's not sabotage for goodness sakes, it's just the RULES! It doesn't get any more absurd than this. Or does it?
Well it does. Not only are candidates restricted to 26 days, but any violation is punishable by law and subject to candidate disqualification for the elections. It is unclear if these laws will be backdated or not. However for specifics, if you think I'm making this stuff up, here you go:
In the remaining less than four months those wishing to stand for presidency were advised to keep it to themselves as in accordance to the law.

"Before the said dates, those planning to declare their candidature should abide by the law and wait. According to the electoral law no political activities are expected before the approval of candidates," Karangwa said. (emphasis mine)
I'm struck by that word "approval" stuck right in there. It reads to me, like the arbitrarily enforced violation of the "genocide ideology" law. Who will be approving candidates and on what terms? How likely is it, that they will be disapproved based on speculation regarding their candidacy? That is, if the population presumes one to be running for president, even if one has not "officially" made such an announcement, will that person be disqualified for running in the presidential election? Will the approval be based on how receptive the country is towards a certain candidate? It's no secret that the Rwandan dictatorship is plagued with vague and arbitrarily enforced laws, and this is one of them. Some of the vague laws and language are used to intimidate and silence opposition. These in particular are supposed to create the ultimate barrier to the presidency for the opposition (at least before resorting to the use of physical violence to halt opponents) as far as the law can go without being regarded as a fascist attempt to remain in power by all means necessary. Although as far as I'm concerned, this is a fascist attempt to hold on to power by any means necessary.
And if all else fails, call upon oft reliable, never fail friend of the RPF, physical violence. Think they won't? Well think again, because they already have.
After the bizarre announcement of the new electoral process laws, three grenades were coincidentally detonated around the capital city of Kigali. The BBC writes:
At least one person has been killed and 18 injured in three simultaneous grenade attacks in Rwanda's capital, Kigali, state media report.

A bus station, a restaurant and another building housing several businesses were targeted, state radio said.
While there is no "clear connection" between these attacks and the election, the timing is oddly suspicious and peculiarly familiar to the pre-April 1994 period. One thing many do not realize is that the RPF is notorious for terror and intimidation. From the time they attacked a sovereign nation in 1990 and creating a four year war that culminated in the genocide, to the five million deaths in the Congo, there is no terror tool beyond the RPF's use. And remember the RPF is led by current Rwandan President Paul Kagame. If you don't see the connection here, I can't help you.
During the 1990-1994 period, prior to the genocide, the RPF used bombs and grenades to intimidate people and to terrorize them. It appears the RPF is back at its games. Most Rwandans and few other people around the world know the RPF instigated the conflict that began in 1990, and they know it was the RPF who committed mass terror for the longest period of time. While Kagame has brainwashed the world to believe he rose out of nowhere to halt a deadly genocide from destroying a nation, it is also true that Kagame terrorized that nation into submission although people remain largely unaware of this fact. Kagame is not, and has never been a popular figure in Rwanda, despite his resume of instigating (fact largely unknown by the world), and then subsequently halting the genocide. It is through terror that Kagame became the leader of Rwanda, and it is through terror that Kagame remains the leader of Rwanda. These grenade attacks are no coincidence, and they are no random acts of violence. They are calculated attempts to remind the populous of Kagame's predilection for terror. It is a reminder that 1990-1994 could possibly be relived should they attempt to challenge him, even if by only support other challengers. The grenade attacks are terror tools used to intimidate and confuse the population, to conquer and divide amongst inconsequential affiliations. This is what the RPF does. It is what they have done, and what they will continue to do.
The world at large still enjoys a fairly moderate love affair with President Kagame. Many are ignorant to the RPF actions both in Rwanda and in the Congo. Because of most people's familiarity with the 1994 genocide and the concurrent ignorance of the events before and after 1994, people easily give President Kagame a pass. They forgive him for his transgressions. Because as far as they are concerned, Kagame saved Rwanda and Rwandans in 1994 and that is good enough for them. But as far as I'm concerned, the lives saved in 1994 are not worth more than the lives that perished between 1990 and 1994, and 1996- today. Kagame does not deserve to remain on any pedestal nor should he be absolved from all the other crimes committed by himself and the RPF.
There is no reason Rwanda should spiral back into a deadly convulsion. People should become aware of Kagame's tactics, and should call upon every capable party to demand civility from Kagame for once in his life. Opposition leaders are only that. Leaders of opposition. They have not won any significant influential power, nor are they any threat to the RPF machine. These deadly tactics by the status quo in Rwanda are uncalled for, unnecessary, and extremely reminscent of pre 1994 genocide.
If you think I'm being too harsh on the RPF in this post, think of all the lives that perished in 1990-1994. Think of the 1994 genocide (even if he prevailed against others, Kagame was an active participant in the death of human beings during the genocide). Think of 5-6 million lives lost in the Congo. All these deaths were preventable. Deaths that could potentially take place in Rwanda due to these elections are also preventable. Are those people any less deserving of life simply because Kagame hangs out with Tony Blair, Google, and Bill Gates? Seriously? I find it fascinating how when Kagame's back is against the wall, that is when human rights groups, and Judges demand accountability from him, he uses weak claims of pan-African Unity and sovereignty, and respect to deflect from his criminal behavior. Yet he never bats an eye when it comes to employing and hobnobbing with known British imperialist Tony Blair. The hypocrisy never ceases to amaze me.
Despite all that, Kagame's intimidation tactics must end. Lives must be spared. And communities must be rebuilt. And not in terror. Stop Kagame's terrorism now!
ETA: I realize that the Rwanda government is blaming the grenade attacks on "interahamwe." But is anyone seriously surprised by that? Is that not what Kagame et al did all throughout the early 90s? Colored Opinions writes:
The state run Rwanda News Agency published this report that Rwandan Police have arrested two men and that they have claimed, within less than 24 hours that "all the evidence" points to the guilt of the Interahamwe.
When a presidential candidate from the opposition was attacked my a mob, members of the police present did NOT even interfere with this attack. YET I'm supposed to believe they are so efficient they caught the two parties responsible, and by God, they belong to the 1994 genocide terrorist group, the "interahamwe." I tip my hat to the Kagame propaganda machine, but pray that the world wakes up and prevents the 1994 genocide from happening all over again. This time we know. No one can claim ignorance anymore. No one. Not even you Secretary of State Hillary Clinton. Especially not you.