More grenade blasts in Kigali and Gisenyi injured 16 people
Grenade blast wounds 16 in Rwandan capital: police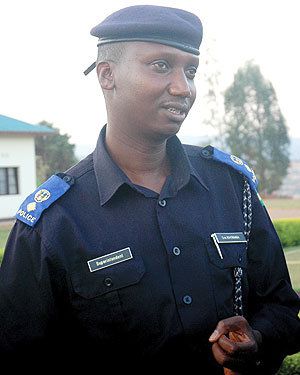 the Police Spokesman,
KIGALI — Rwanda reeled Friday from grenade blasts in Kigali, heightening security fears ahead of upcoming elections after a fugitive former army chief was accused of trying to destabilise the government.
Two near-simultaneous grenade explosions injured 16 people in the Rwandan capital Kigali, police said Friday.
President Paul Kagame has already accused a former army chief now in South Africa of being behind blasts last month, but he set out this week to reassure Rwandans that there was no risk of a coup in the central African country.
Four people were wounded late Thursday when a blast rocked a car-washing yard and another 12 were hurt at a bus station in an upmarket Kigali district, police spokesman Eric Kayiranga told the state radio.
"Police and other security agencies have begun investigations," Kayiranga told Radio Rwanda. "All will be done to ensure that those responsible... are identified and punished."
Thursday's grenade attack is the second to rock Kigali in less than a month. On February 19, two people were killed and several others wounded in multiple grenade attacks in the capital during rush hour.
Three people were arrested over the incident for which police initially blamed elements of an extremist Hutu militia that was accused of killings during the 1994 genocide, in which an estimated 800,000 people died.
Kagame on Wednesday said that no one can carry out a coup in Rwanda, which has been seen as a model of reconstruction after the genocide, in which the then mainly Hutu army and a Hutu militia mainly killed minority Tutsis.
He was replying at a press conference to a question on former army chief of staff Faustin Kayumba Nyamwasa who fled to South Africa earlier this week and who has in the past been suspected of wanting to overthrow the government.
"Nobody, absolutely nobody, not even Kayumba, can carry out a coup here. Think about it and you'll come to the conclusion no one can carry out a coup," in Rwanda, the president said.
The government has shifted blame for February's grenade attacks to two former top army officers, including Kayumba. The two were members of Kagame's then rebel group, Rwandan Patriotic Front, which ended the genocide and is now in power in Kigali.
Rwanda's chief prosecutor Martin Ngoga on Tuesday accused Kayumba of being behind terrorist acts aimed at destabilising Rwanda, including grenade attacks in the capital.
In a statement, the prosecutor said Kayumba was working together with another former army officer who also sought refuge in South Africa, Patrick Karegeya, a former intelligence chief.
Karegeya has been on the run for more than two years, and Kagame charged Wednesday that he was travelling in countries bordering on Rwanda to find ways of destabilising his administration.
But Kagame insisted that no plot can rock "the solid foundation" built after the genocide, adding: "The country will continue to move fast, will continue to develop, will continue to grow."
The explosions come ahead of presidential elections set for August. Rwanda has largely been stable since Kagame came to power in 1994, but he did so after 100 days of massacres that have left deep scars on the small country.
An armed Hutu movement, the Democratic Forces for the Liberation of Rwanda (FDLR), is active across the western border in the Democratic Republic of Congo, and has in the past carried out attacks inside Rwanda.
The FDLR is estimated at fewer than 6,000 men and includes some people believed to have taken part in the 1994 genocide.