Murder of Andre Kagwa Rwisereka: An Independent Inquiry is a Must
Murder of Andre Kagwa Rwisereka: An Independent Inquiry is a Must (
16.07.10

)

The UDF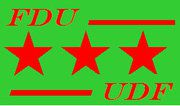 -Inkingi Support Committee was shocked by the assassination of Andre Kagwa Rwisereka, First Vice President of the Democratic Green Party of Rwanda, an assassination that was carried out with an incredible cruelty.
On Wednesday, July 14, 2010, one day after Mr Andre Kagwa Rwisereka had gone missing, his body was found on the banks of the river Mukura, near the city of Butare. His head was almost completely removed from his body. His car was also recovered, pushed and then abandoned near the crime scene with his keys, identification card and other personal belongings.
Despite the fact that Mr Andre Kagwa Rwisereka had left his passport at his home residence and had to attend a party meeting in Kigali the next day, the Rwandan police hastened to announce that he had probably fled the country to Burundi. Equally hasty was the announcement of the arrest of a suspect this Thursday, July 15, 2010. As this was the case with regard to Jean Leonard Rugambage, a Rwandan journalist who was murdered nearly a month ago, all signs point to the fact that the Rwandan police are trying to persuade the public opinion that Andre Kagwa Rwisereka's murder is an ordinary crime. This is indeed the first act of a parody of justice aimed at covering up the actual perpetrators and their sponsors.
The UDF-Inkingi Support Committee expresses its deep sympathy and solidarity to the family, friends and colleagues of Andre Kagwa Rwisereka and his party. The death of this man who was engaged in the struggle for a democratic and peaceful Rwanda is another inestimable loss for the democratic movement in Rwanda.
Several other murders of a similar bestiality have taken place since July 19, 1994. The victims, be they Rwandan or of foreign origin, are innumerable. With regard to Rwandan victims, the list of national or local political leaders, human rights activists, businessmen, judges, journalists, clerics and soldiers who have been killed since the takeover by the Rwandan Patriotic Front (RPF) of Paul Kagame is endless.
The contradictory statements, denials and sometimes outright denial by the regime of Paul Kagame, as this was the case for MP Jean Leonard Hitimana and magistrate Col. Augustin Cyiza who were murdered in similar circumstances in 2003 and whose bodies were never recovered, and then promises of investigation thrown by the same regime as dust into the public opinion's eyes, clearly demonstrate that such a regime is absolutely unable to investigate or prosecute crimes of which it is the prime suspect.
Today, as Paul Kagame co-chairs in Madrid with Spanish Prime Minister J. L. Zapatero, a panel for the UN Millennium Development Goals Advocacy Group set up by UN Secretary General Ban Ki-Moon, the UDF-Inkingi Support Committee would like to express its indignation with regard to irresponsibility, cynicism and complicity of which are guilty all those who offer such an international platform to a man whose hands are covered with the blood of countless innocent people, including Spanish nationals. It is indeed a second death for all these victims and a disgrace to humanity.
The UDF-Inkingi Support Committee calls upon human rights organizations not to manage any effort so that an international commission of inquiry can be established to investigate these murders. It especially calls upon the United States of America, the United Kingdom, the European Union and the United Nations, in accordance with the values they claim to defend around the world, to clearly support the establishment of such a commission.
The UDF-Inkingi Support Committee calls upon Rwandan women and men not to give in to fear that the killers of Andre Kagwa Rwisereka wanted to instill into their hearts and minds at a time when the regime of Paul Kagame conditions them to take part in the electoral farce which Paul Kagame will conclude on August 9, 2010.
Done in Lyons on July 16, 2010.
For UDF-Inkingi Support Committee
Eugene Ndahayo
President