Peacekeepers on world's biggest mission may leave Democratic Republic of the Congo by mid-2011
UN begins talks on withdrawal from Congo
Peacekeepers on world's biggest mission may leave Democratic Republic of the Congo by mid-2011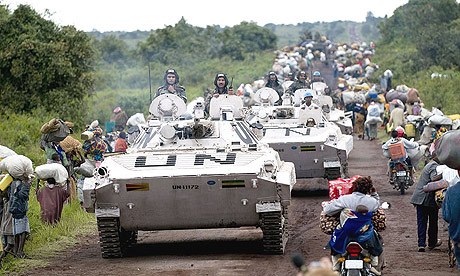 The UN has begun talks with the Democratic Republic of the Congo about ending its controversial peacekeeping mission in the country.
The mission, which has been in Congo for 11 years, is the world's biggest with 18,500 "blue helmet" troops at an annual cost of $1.35bn (£895m).
The discussions were announced by Alain Le Roy, the UN under secretary-general, after a meeting with the Congolese president, Joseph Kabila.
Le Roy told the BBC that a UN team had been given one month to assess how the mission, known by a French acronym, Monuc, could start pulling out troops.
He said peacekeepers would be ready for withdrawal from central and south-east Congo by June. But he added it was still vital for Monuc to support Congolese military offensives against Rwandan Hutu rebels in the east and the Uganda-based Lord's Resistance Army in the north.
Congo's government has said it wants all the peacekeepers gone before the presidential election due next year.
Lambert Mende, a government spokesman, said there should be no UN troops in Congo, other than in the troubled eastern regions of North and South Kivu, by the end of this year. "Withdrawal must be completed by mid-2011," he added.
In the east, Monuc has been providing rations, transport, fuel and firepower to the Congolese army in its operations against an exiled Rwandan Hutu militia group, some of whose leaders took part in the 1994 genocide in Congo's neighbour.
The Congolese army has been accused of atrocities against the people it is meant to be protecting. Human Rights Watch and other NGOs have documented hundreds of killings and thousands of rapes and questioned why Monuc is supporting the army responsible.
Writing in the Guardian last month, Alan Doss, the head of the UN mission in Congo, defended its actions: "We have concentrated more than 95% of our troops in the eastern provinces, which cover an area almost three times the size of France. The terrain is heavily forested. There are few roads and communities are isolated. Because of these conditions quick access is not always possible when reports of violence reach us."
Monuc's current mandate from the UN security council is due to expire at the end of May. The Congolese government is keen for a withdrawal timeline to be announced before 30 June, when the country celebrates 50 years of independence from Belgium.