Police quiz Ingabire over "double genocide" remarks
Police quiz Ingabire over "double genocide" remarks
Wednesday, 10 February 2010 15:40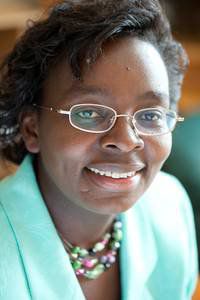 Kigali: The Criminal Investigations Department (CID) on Wednesday morning put opposition politician Umuhoza Ingabire Victoire to task over the comments she made January 16 on arrival from a 17-year exile – with possible criminal charges awaiting, RNA reports.
At 10am, Ms. Ingabire entered the CID Headquarters in Kacyiru in the company of her lawyer Mr. Protais Mutembe, reporters, party colleagues and onlookers. Only Ingabire and the renowned attorney were allowed into the building.
According to party officials, Ingabire was quizzed by CID agents on her controversial comments which have caused a stir here. The fiery politician raised eyebrows on January 16 at the Kigali Genocide Memorial Center where some 250,000 victims are laid to rest, saying it only honors Tutsis killed by Hutus.
Before journalists, Ms. Ingabire wondered why the site does not honor Hutus allegedly killed by Tutsis. This specific assertion, though commonly advanced by exiled bitter government critics, had never been raised on Rwandan territory.
The following weeks have seen her coming under fire from the small political parties aligned to the Rwanda Patriotic Front and Genocide survivors – who have accused her of promoting the "double Genocide theory". She maintains that the reported comments, first carried by a local daily 'The New Times', were twisted out of context.
The diplomat community has also joined the side calling on the leader of the yet-to-be registered United Democratic Forces Inkingi party to avoid what the European Union envoy Mr. Michel Arrion described as "inflammatory declarations". Ms. Ingabire has met the British and Dutch diplomats, but it's not clear if they have also encouraged her to keep out of trouble.
Police officials say summoning Ingabire is normal procedure, but add that she could be charged if a there is a case for her to answer. The summon also came two days after President Paul Kagame warned that the law would take its course. ... www.rnanews.com