Rwanda clamping down, say opposition
Rwanda clamping down, say opposition
KIGALI —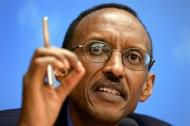 The Rwandan authorities are clamping down on political opponents six months ahead of the presidential election, an opposition party and a rights group said Wednesday.
"Opposition party members are facing increasing threats, attacks, and harassment in advance of Rwanda's August 2010 presidential election," Human Rights Watch (HRW) said.
The New York-based rights group urged the government to investigate all such incidents and to "ensure that opposition activists are able to go about their legitimate activities without fear".
An opposition leader who returned from exile last month to run in the elections was taken in for questioning by police Wednesday.
"The criminal investigation department... today summoned Mrs. Victoire Ingabire Umuhoza without giving any reason," Ingabire's FDU party said in a statement.
"Obviously this branch of the executive is carrying out the injunction of the President of the Republic the day before yesterday...," the group said, referring to a declaration by President Paul Kagame at a press conference.
Rwandan police spokesman Eric Kayiranga confirmed to AFP that she was questioned and later allowed to return home.
The Rwanda News Agency quoted Kagame Monday as charging that Ingabire was "making comments and doing all her activities illegally and as an 'individual' because her party has not been registered."
Her questioning follows the jailing of her assistant Joseph Ntawangundi, who was sentenced in absentia in 2007 to 19 years by a gacaca court, one of the grassroots tribunals set up to try perpetrators of the 1994 genocide.
The FDU says that Ntawangundi was in Sweden on a training course at the time of the genocide.
Ntawangundi and Ingabire were last week attacked at a municipal office in the capital.
Ingabire escaped but Ntawangundi told HRW he was "attacked for about 45 minutes by scores of young men who punched him, kicked and scratched him, threw him into the air, and ripped his clothes."
Kayiranga played down the incident, saying the two were attacked by people in the queue who were angered because they were attended to before others who "had been waiting for days".
HRW said another new opposition party, the Democratic Green Party of Rwanda, has also suffered "serious incidents of intimidation" by individuals close to the government and the ruling party.
"The Rwandan government already tightly controls political space," said Georgette Gagnon, Africa director at HRW.
"These incidents will further undermine democracy by discouraging any meaningful opposition in the elections," she warned.
In 2009, several meetings of the Green Party and PS-Imberakuri -- another opposition party -- were broken up by police, HRW said.
PS-Imberakuri finally managed to register in November.
The Green Party still has not succeeded, its members have come under pressure to give up their political activities, and some received anonymous phone calls asking for details of Habineza's travel plans, the group said.
"This escalation of attacks against opposition party members does not bode well for the election," HRW's Gagnon said.
Kagame, who has been in power since the end of the genocide, has been regularly accused of muzzling the opposition and is widely expected to seek and secure re-election in August.
Copyright © 2010 AFP. All rights reserved.