Rwanda rebels deny link to opposition chief
Rwanda rebels deny link to opposition chief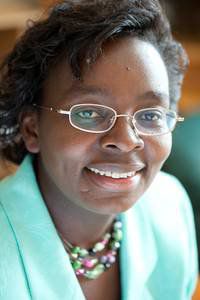 NAIROBI (AFP) – Rwandan rebels based in the Democratic Republic of Congo denied on Wednesday any links to a Hutu opposition leader arrested in Kigali for having ties to their group and for denying the 1994 genocide.
Victoire Ingabire, a likely challenger to Rwandan President Paul Kagame in August presidential elections, was arrested on April 21 on suspicion of denying the mass killings and of "collaborating with a terrorist organisation."
Rwandan authorities have also announced the arrest of three alleged members of the Democratic Forces for the Liberation of Rwanda (FDLR) rebel group on suspicion of complicity with Ingabire.
"The reality is that there is no form of collaboration between the two organisations," the FDLR said in a statement.
It said the three men in question were deserters who had been "corrupted" by Kagame's regime.
"Such claims serve only to sow fear, terror, disarray and tension within the organisations that are struggling against this regime, to make them lower their guard and give up," the rebel group added.
The FDLR has been active in eastern DR Congo for 15 years. Some of its older members are accused of taking part in the 1994 genocide.
The charges against Ingabire stem from remarks made after her return to Rwanda in January, in which she called for the trial of those responsible for the death of Hutus in the genocide.
The opposition chief has since been granted a conditional release.
An estimated 800,000 people were killed in the massacre planned and carried out by ethnic Hutu extremists. Most killed were Tutsis but moderate Hutus were also victims.
Ingabire heads the United Democratic Forces (FDU) party which was formed in exile but is not yet registered in Rwanda.