Rwanda urged to cease hostilities
Rwanda urged to cease hostilities
afrol News, 10 February -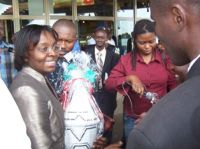 The International human rights organisation, Human Rights Watch, has called on the Rwandan government to end hostilities against opposition party as the country runs up to the August polls.
The statement follows the recent attack on a leader of Rwanda's opposition, United Democratic Force, Victoire Ingabire who has recently raised eyebrows from her comments about the country's infamous genocide.

Ms Ingabire, a Hutu, was criticised last month for highlighting crimes against Hutus during the 1994 genocide, when some 800,000 people were killed in 100 days of violence in Rwanda - most of them Tutsis, but many moderate Hutus were also massacred.

Human Rights Watch said the leaders target opponents by accusing them of having taken part in the 1994 genocide.

Last week, an aide of one opposition leader was jailed for genocide crimes, but he claims he was abroad at the time.

President Paul Kagame in defense of the government actions, has said he respects people's rights but will not tolerate anyone undermining peace and stability.

The Organisation said that in the past week, members of the FDU-Inkingi and the Democratic Green Party of Rwanda - new opposition parties critical of government policies - have suffered serious incidents of intimidation by individuals and institutions close to the government and the ruling Rwandan Patriotic Front (RPF).

"One member of the FDU-Inkingi was beaten by a mob in front of a local government office. The attack appeared to have been well coordinated, suggesting it had been planned in advance," HRW report said.

The Rwandan government and the RPF have strongly resisted any political opposition or broader challenge of their policies by civil society. On several occasions, the government has used accusations of participation in the genocide, as a way of targeting and discrediting its critics.

The current RPF-dominated government has been in power in Rwanda since the end of the 1994 genocide.
© afrol News