The East African' newspaper under fire over Ingabire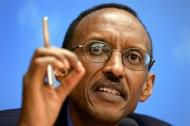 The Kenyan-based 'The East African' newspaper came under scrutiny on Wednesday with President Paul Kagame describing as "insulting" and "offensive" a damning interview it had with the opposition politician Ms. Ingabire Victoire.
Even naming the reporters who conducted the interview for the regional weekly as Mr. Charles Kazooba and Esther Nakazzi, President Kagame wondered why Rwanda is covered by "Ugandan journalists in Uganda...based in Uganda".
"For me that suggested [that] we are probably less east-African...or the intention was to make Rwanda less east-African" he said, in reference to the five-member East African Community block.
In the lengthy interview published in the weekly's February 15-20 Issue, Ms. Ingabire heavily criticized government – with most of her attacks directed at President Kagame himself and his Rwanda Patriotic Front (RPF) party.
Mr. Kagame told the Wednesday press conference that the story seemed to portray Rwandan society as a country where people are "tight-lipped", and Ingabire as their "savoir". The interview also insinuated Rwanda as a kingdom with Kagame at the helm.
In a seemingly irritated tone, coupled with laughter, Mr. Kagame said the "worst of it...probably something that is equally offensive. Why is it that people would cover Rwanda by Ugandan journalists in Uganda, based in Uganda?"
As the President spoke, the Nation Media correspondent in Kigali Mr. David Kezio interjected, distancing himself from the interview. He said it had been conducted by the Kampala bureau and "probably by email". Mr. Kezio also said he would check with "my superiors Your Excellence".
"You tell them that in my own right also...and when I say this you understand it," said the President, adding, "...in my own right I thought it was offensive".
He added: "But under freedom of expression, we can take that...but we can also express ourselves".
The President did not say how that will happen.
The Nation Media Group, the parent company of The East African, is already in Uganda, Kenya and Tanzania, and is now working on entering into the Rwanda market. The media group has several newspapers, radio stations and Nation TV.
Previously, government has had issue with Daily Monitor, a daily in Uganda – also part of the Nation Media Group. Its reporter Mr. Robert Mukombozi was declared persona non grata in 2007. President Kagame at some point personally complained that Mr. Mukombozi had misquoted him.
Meanwhile, the spat with the Nation Media Group's paper also comes after it was announced recently that it had invited President Kagame to the Pan African Media Conference scheduled for March 18 – 19 in Nairobi.
The major conference will also coincide with Nation Media Group's 50th anniversary.
According to the Group, President Kagame, Kenya's Mwai Kibaki, as well as Joaquim Alberto Chissano, the former Mozambique leader, and John Agyekum Kufuor, former Ghanaian President, have all confirmed their attendance.