The innocent blood of Rwandans continue to haunt Col. Nyamwasa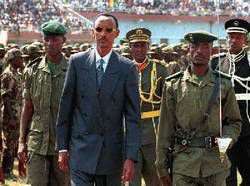 Indeed Kayumba had reached the peak of his glory within the RPF ranks and thus the next phase was retrogression.Kagame is indeed an unpredictable man compared to his erstwhile ally,M7 in Uganda,who's some how lenient with his ex-comrades.
One cannot forget millions of innocent people that Kayumba killed in Ruhengeri Gisenyi and Gitarama in 1997 and 1998. We have not forgotten millions of Hutus and Congolese people who fell under his sword. I can now remind Col Nyamwasa the souls of infants, children, pregnant mothers and elderly people of Mukamira, Musanze,Nyakinama,Nyamugari, Butaro, Kinigi, Mutura, Nyamutera and Nyamugari, Kora, and Kibuye that have been crying to God for justice that this is the way to full judgement. we do not pray that he die today because he would not have repented. Who doesnt remember Nyamwasa the good killer who wanted to eliminate all people of northern Rwanda in order to achieve his ambitious lucrative plan of planting tobacco in Ruhengeri and Gisenyi after killing all hutus living there as "ABACENGEZI".
We cannot also ignore that the blood of innocent Rwandans hutus and tutsis as well killed since 1990s until todate is haunting this group of once camrade now they are allover the globe looking for refugee as their so called enemies. Kagame has no mercy or forgiveness whatsoever for his friends and foes because he only thinks of blood. The former has indeed turned againt a myriad of his ex-RDF comrades like:Lt Col Rutayisire(RIP),Gen Emmanuel Habyarimana,Col Karegyeya,Maj Alphonse Furuma,Maj Theogene Rudasingwa etc,thus the Kayumba situation shouldn't be a surprise to any keen observer of the RPF politics.
I even remember his outbursts at the height of the Uganda-Rwanda clashes in Kisangani(1999-2000),where he referred to his then Ugandan counterpart,Gen Jeje Odongo,as a "platoon commander"!!!!.Its now an "experienced General" surrendering himself to the "platoon commander(s). The innocent blood now is leading the soul of Col Nyamwasa to a familiar but non familiar land. After calling Gen. Odongo a platoon commander now he can sit down and ask for shelter, food, and security because the blood of Rwandans is still on his head. he will never sit and relax unless he asks for forgiveness from his own Tutsi people that he put at risk of massacre when he invaded his own land, and also from Hutus who had nothing to do with all wars and conflict but he killed them simply because they were of Hutu bloo.
ALL RWANDANS WHO SHED INNOCENT BLOOD WILL PAY THE SAME,IT DOES NOT MATTER HOW MANY YEARS IT TAKES IF IT DOES NOT COME TO YOU IT COMES UPON YOUR OFFSPRING BECAUSE BLOOD IS A CURSE!.