the RPF CID Officer summoned Ingabire Victoire today at CID offices Kigali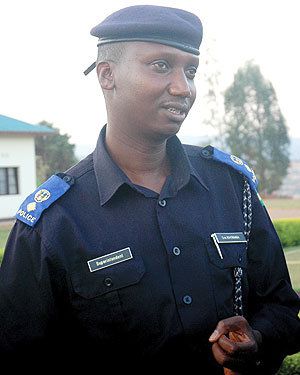 Victoire Ingabire Umuhoza (42) is Saturday afternoon in the Rwandan capital Kigali and her party member Joseph Ntawangundi arrested for questioning. Victoire Ingabire, a Hutu, is the presidential election on August 9 the main challenger to the incumbent Tutsi President Paul Kagame, who also painted the slain winner.
The opposition politician from the interrogation itself was not arrested, but her assistant Joseph Ntawangundi. He had told the police that in 2007 he was sentenced in absentia to 19 years prison. A traditional gacaca court had found him guilty of genocide crimes when committed in 1994, when Ntawangundi school director in Gitwe.
... See more

But according to a communique of Ingabire Joseph's party stayed Ntawangundi not even in Rwanda in 1994. The man worked from 1993 to 2002 for an international trade union federation in the Kenyan capital Nairobi. Then in April 1994 in a bloody genocide in Rwanda broke out, followed Ntawangundi training in Sweden.

Ntawangundi abroad joined with the opposition party Victoire Ingabire, who at the time of the genocide in Rwanda nor stayed. Ingabire lived the past sixteen years in the Netherlands. It is only recently, on January 16, returned to Rwanda: the political opposition to it through, its own constituency, and on August 9 at the presidential election to participate.

Also Ntawangundi traveled on January 16 with Ingabire back to Rwanda. Just before their return published the pro-government New Times newspaper in Ingabire's due a genocidal condemned "traveled. That article was the reason for the arrest last Saturday.

But that was not the first incident. Wednesday Ingabire and all were in a town in Kigali Ntawangundi harsh tackle. Ingabire could hardly escape, Ntawangundi received some blows and then landed in the hospital.

The harassment was almost immediately after her arrival in Kigali began. During a call, end of January in Rwanda, told The Standard that Ingabire to give interviews on the street is no longer possible: "They deliberately push me over, as they begin to talk loudly into their cell phone that you can not hear me . "

When she was already convinced that the intimidation in the run up to the elections would only increase, "They will certainly try us look bad."

Kris Berwouts, director of the EURAC European NGO network that works on Central Africa, following one years since Victoire Ingabire close.

The intimidation against the opposition candidate he had not expected, because Ingabire event is unable Kagame of his overthrow: "Ingabire is an intelligent politician with a vision of Rwanda. But they seem not to succeed in its ambition to create a constituency in Rwanda, and the diaspora a voice. "

Why does the Rwandan regime still so tense? "Rwanda has never before elections take into account a democratizing political alternative. This is the regime in a winning mood. It was last year member of the Commonwealth, while French President Nicolas Sarkozy is eager to restore relations. Then when you land you feel you can afford everything. "

Ingabire is endorsed for the same reason last year deceased-experte Rwanda Alison Des Forges at the end of her life was not in Rwanda, says Berwouts.

"Like Alison Ingabire complains that the court proceedings only in Rwanda's Hutu-Tutsi crimes against justice, but not vice versa. Ingabire By her return immediately denounced the crimes committed against Tutsis in 1994 Hutus committed, remain unpunished. Then, the pro-government media accused her immediately that she is sowing discord. "

Kris Berwouts advocates an EU observation mission on August 9.

"That is not planned. But in this tense climate, not to send election observers, is completely irresponsible