Who will save Africa: Ugandan leader puts his guards under son's unit
Ugandan leader puts his guards under son's unit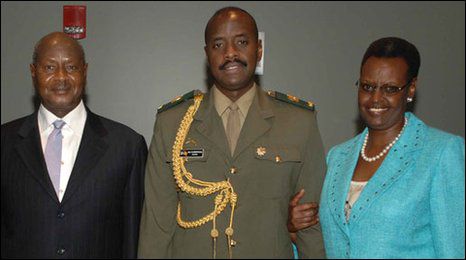 KAMPALA (Reuters) - Uganda's President Yoweri Museveni has placed his presidential guard under an elite army unit commanded by his son, increasing opposition suspicions that he is quietly grooming his son for succession.
The opposition accuses Museveni of pushing his son, Lieutenant Colonel Keinerugaba Muhoozi, through the ranks to prepare him to take over when the president leaves power.
Army spokesman Felix Kulaigye said on Sunday the decision to put the Presidential Guard Brigade under the special forces unit commanded by Muhoozi was in line with a reorganisation of the armed forces now in progress.
The expanded unit is also responsible for preventing terrorist attacks in the country and providing security in the Lake Albert region where crude oil deposits have been found.
In 2007 the Ugandan military clashed with Congolese forces over Lake Albert after Congo accused Uganda of seeking to steal its oil.
The opposition criticised the strengthening of Muhoozi's position.
"Already there has been an outcry from Ugandans about the president's habit of putting his relatives in strategic positions," said Hussein Kyanjo, opposition defence spokesman.
"What President Museveni has done confirms Ugandans' worst fears. He's making the Ugandan presidency a monarchical affair and is clearly anointing his son to succeed him."
Museveni has been in power for 24 years and is expected to stand for re-election in February next year. He has not indicated when he intends to relinquish the helm of the east African country. Kulaigye, the army spokesman, rejected Kyanjo's allegation.
"But even then Muhoozi didn't commit any crime by being the son of the president. He's an individual Ugandan with rights including contesting for the presidency if he wants," he said.