Uganda has begun "forcibly" deporting hundreds of Rwandans from two southwestern refugee camps, at gunpoint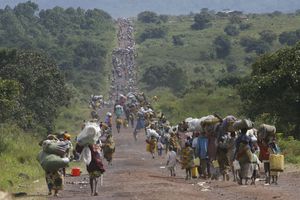 according to one witness, prompting the UN Refugee Agency (UNHCR) to call for a suspension of the operation.

Both countries have long tried to rid Uganda of Rwandan refugees who for their part say they do not feel safe going home. (See box)

Tarsis Kabwegyere, the Ugandan minister in charge of disaster preparedness and refugees, said the operation, which started on 14 July, targeted illegal immigrants "who had no good reason to stay here".

"They had no documents and over 1,700 were taken back," he added.

"The UNHCR knows about it. It was not done in secrecy; the government of Rwanda provided transport, food and water to us. They only took their people home. They are responsible for their citizens."

But UNHCR distanced itself from the operation.

"We are not involved," UNHCR resident representative in Uganda Kai Nielsen told IRIN on 15 July.

"It is a bilateral arrangement between the two governments of Uganda and Rwanda. We have appealed to the Ugandan government to suspend the police operation which is taking place in the refugee camps of Nakivale and Kyaka without UNHCR involvement to forcibly return Rwandans back to their country."

"Not given a fair chance"

"While we fully respect the government's right to deal with rejected asylum-seekers after they have exhausted the legal appeal process, we are gravely concerned that some of those targeted for deportation to Rwanda were not given a fair chance to have their asylum claims examined. Any forcible repatriation constitutes a breach of international as well as Ugandan asylum laws."

International Refugee Rights Initiative and the Refugee Law Project also condemned the operation, saying it violated Uganda's constitution, and, because families were allegedly separated, the Children's Statute and the Convention on the Rights of the Child.

Nielsen said: "Police cordoned off the camp. We have been told that the refugees were gathered to be briefed about the results of their [asylum] appeal process, while others were told that they were going to receive food rations."

"Instead, they were rounded up and bundled on to waiting trucks that drove them towards Rwanda. Between 1,000 and 2,000 were repatriated," he said.

Rwanda's Minister of Disaster Preparedness and Refugee Affairs told IRIN that those repatriated, "around 2,000" were now in a transit camp in Gicumbi district "so we can see which district they are coming from."

"We are arranging to give them some requirements needed for one month, food or kitchen items and so on, and we have arranged transport to let them go back to their district of origin," he added.

Tricked

A Rwandan community leader among the refugees in Juru A camp - one of the settlements in Nakivale predominantly occupied by Rwandans - told IRIN on the telephone: "When we were called to the camp offices [on 14 July], we thought it was for a meeting but when we got there we found the police and camp commanders and about 12 trucks.

"The situation was very bad; we were held at gunpoint as the police and the commanders tied people's hands and forced them into the trucks; those who escaped were shot at. I understand several people were injured in the chaos," the community leader, who requested anonymity, said.

He said some of those who were being herded into the vehicles were beaten up when they tried to resist.

"Right now there are very few Rwandans in Nakivale camp. Many have fled into the bush or among the host community. Those left are mostly children and the aged who cannot run," the community leader said. "I have heard that some of those who have fled are in very bad conditions in the bush."

Another Rwandan refugee in Nakivale, said: "They took many of my neighbours yesterday; I am too old to run or to return to Rwanda. What will happen to me? I am worried for my grandson who I take care of and who is in high school. I fear they might catch him and force him to go to Rwanda yet he was born here. My son, his father, is dead, he knows no other home. What will happen to us?